Truckload Demand Rises as Expenditures Fall
The Cass index measures freight shipments for all modes of transportation in North America, with truckload (TL) and LTL weighted at 75%. The economy not being full open, consumer confidence, and the uncertainty of the stimulus payments have kept the shipments index around 6%, below March's reading.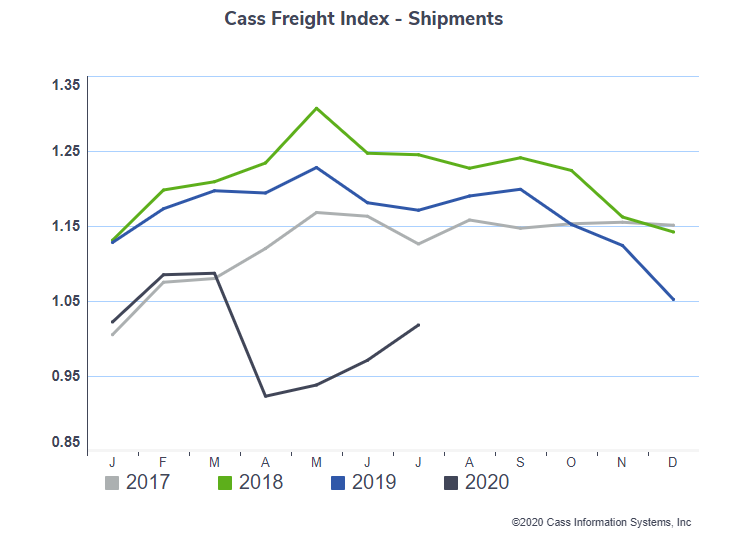 Expenditures have fallen almost 15% while monthly shipments have gone up from June to July. The big names in the Truckload sector have indicated strong volumes in July, which balances out the smaller companies minute increases. For example, ABF reported a decline in revenue totaling 7% in its asset based sector for the month.
Disruptions in the supply chain caused by the COVID-19 pandemic pushed more freight to the spot market at a time when demand for truckload capacity usually declines. Brokers and shippers posted 8.6% more loads during the last week in July while the number of truck posts fell 8%.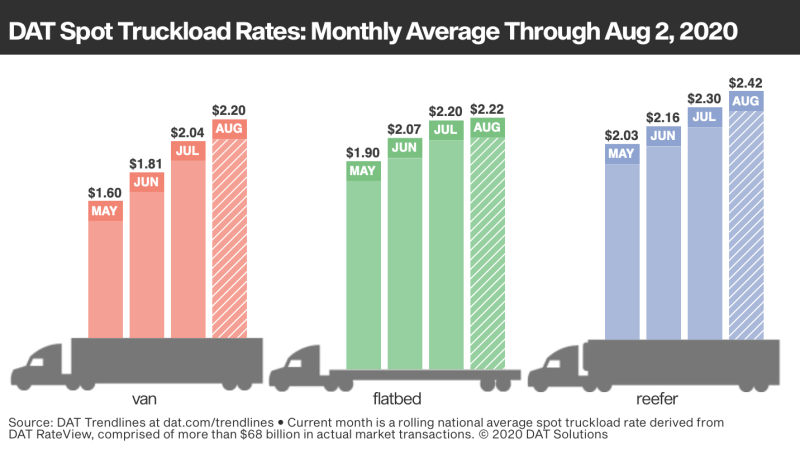 According to FleetOwner, "Average spot van rates increased on 55 of DAT's top 100 lanes by volume compared to the previous week. Volumes on those 100 lanes were only 2% higher week over week, however."
There are a lot of things on our radar that will either disrupt or settle the Truckload market. First being the election and the pending stimulus payments. Secondly, Hurricane season has begun and with the major storms on the radar this will surely increase activity of the spot market. Third, a spike in imports for home improvement and other at-home goods has caused fulfillment warehouse market to rise 25% last month with expectations of continued increase.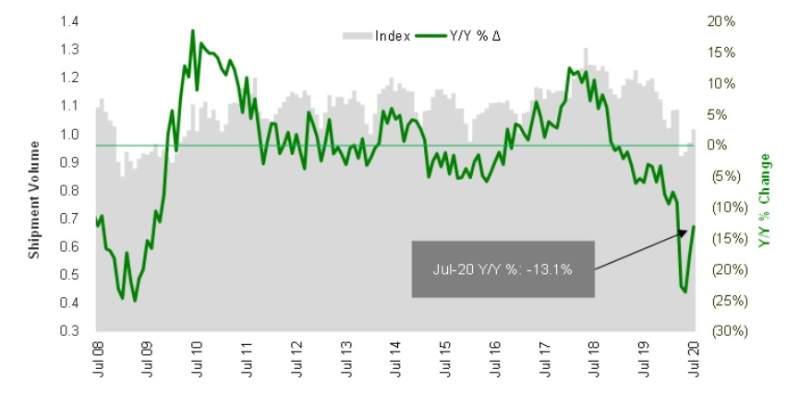 Sources:
Cass Information Systems Inc. "The Cass Freight Index: A Measure of North American Freight Activity: Cass Information Systems." Cass Information Systems, Inc., 2020, www.cassinfo.com/freight-audit-payment/cass-transportation-indexes/cass-freight-index.
Maiden, Todd. "Sluggish Recovery in Cass Freight Data." FreightWaves, 19 Aug. 2020, www.freightwaves.com/news/sluggish-recovery-in-cass-freight-data.
FleetOwner Staff. "Please Enable Cookies." StackPath, 2020, www.fleetowner.com/news/economics/article/21138562/demand-for-truckload-services-pushes-rates-to-new-heights.